Skilled Services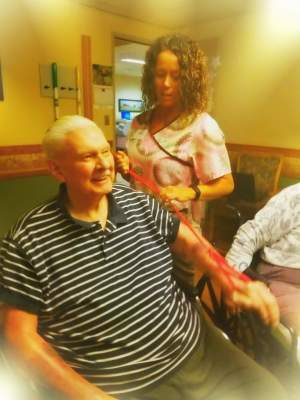 Therapy Services

Skilled Nursing Services-



Some of the skilled nursing services provided are:
Dementia Care

Wound Care

Catheter Care

Colostomy Care

Diabetic Management and Care

Pain Management

Bowel and Bladder Programs

and more,

We strive to meet all the needs of our residents.

Restorative Nursing Program-



Resident Care in the areas of:

Ambulation

Range of Motion

Daily Life Skills

Positioning and alignment

Skin Integrity

Strengthening and restraint reduction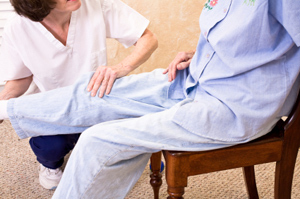 R

egular nutritional assesment from a Registered Dietician
Nutrition and Hydration programs

Oral supplemental diets available

Regular height and weight monitoring

Rehabilitative and social dining

Our physical therapy team works toward specific goals of achieving the resident's highest functional level of independence.  Physical Therapy focuses on identification and rehabilitation of individuals with physical impairment and pain, as well as future injury prevention.  The area of treatment may focus on:

Increasing strength and mobility

Increasing motor controls

Improvinng coordination and balance

Strength conditioning

Range of motion

Proper body mechanics

Occupational Therapy

Our occupational therapists  use task-directed activites in the treatment of our residents whose functional abilities, daily activities, and independence have been impaired by illness, injury, or aging.  They assist in allowing our residents to function well in their environment.  Areas of treatment may focus on:

Functional independence:

                       eating, bathing, toileting, etc.

Maintenance of wellness:

                      dressing and grooming

Prevention of further disability:

                      adaptive equipment

Increasing safety awareness

Speech therapists are able to provide a range of interventions to asses and help restore abilities in the areas of communcation, swallowing, and cognition. Treatment programs are designed to help residents affected by stroke, brain injury, dementia, and other complex medical conditions.  Areas of treatment may focus on:

Improving speech and voice clarity

Increasing comprehension

                                  and verbal expression

Improving chewing and swallowing ability

Maximizing cognitive language skills

Our Respiratory therapist evaluates and treats individuals who have trouble breathing, or those with respiratory associated illnesses such as asthma, pneumonia, emphysema, bronchitis, and sleep apnea.  Areas of treatment may focus on:

Oxygen therapy

Nebulized breathing treatments

Breathing exercises

Airway Management

Respiratory Therapy